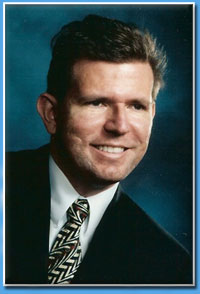 Donald Alan Straub III, born in Lakewood, California, was raised in Long Beach, California, where he still currently resides. He was introduced to a variety of arts at an early age and through grade school was involved in everything from writing, playing music, choir, musical theatre, drama (acting & directing), photography, and filmmaking. He carried that artistic enthusiasm of his youth with him while attending film school at California State University, Long Beach, where he graduated in 1996 with a Bachelor of Arts in Film/Radio/Television.
While in college and since graduation, he has directed, produced, written, and edited a number of films. Three of his short films have gone on to be selected for showings at several notable film festivals across the country, including ďA Trip To OvercomeĒó an acclaimed work that went on to win several awards, including a Special Jury Award for Outstanding Cinematography in the CSU Summer Arts Media Arts Festival and was a recipient of a CINE Eagle Award for Outstanding Production.
With his diverse interests, Don has gone on to pursue many different avenues which has included most recently working alongside his father in Commercial Real Estate. Donís parents instilled in him their love of travel. Though having traveled frequently, Don has discovered a greater passion for it, having traveled more extensively abroad since 2001. With a busy schedule, Don still finds time for poetry and other artistic endeavors when the opportunity arises. Don finds poetry to be a wonderful means of expressing himself. Itís a productive way of dealing with lifeís frustrations and celebrating lifeís joys.
After a short stint at writing for about three years in his early teens, Don rediscovered his interest in poetry in 1997, and has spent the last decade or more writing. He had an interest in publishing a book of poetry for some time and in 2003, with the encouragement of people around him, decided to make it happen by publishing his first book, Life, Death, & the Faces and Places Between. Now he's chosen to broaden his scope and attempt a trilogy of books entitled the Lake Parking Trilogy. The trilogy's first book is entitled Outside the Inner Dialogue. Greater Than Sum, the second book in the trilogy, is his third book published.
To Contact Author:
donstirmonstir@hotmail.com