Greater Than Sum:




A 7 Section Series of Poems Using 21 Words or Less by Donald Alan Straub III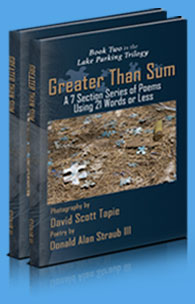 The stirring central volume in the award winning Lake Parking Trilogy, Greater Than Sum, explores language through a lyrical framing of twenty-one words or less. Continuing to draw upon everyday observations, these poems are a puzzle of art and life seen through a looking glass.

This stylized and pensive volume offers up a darker, nevertheless hopeful, panorama of poems that are limited only in the number of words used to colorfully portray this book's contemplative issues. Elements of language, vocabulary, gaming, and musicality structure the writing while highlighting thematic glimpes into the human condition. In rethinking that to which is fixed, what if, "The parts are greater than the sum?" Prepare yourself for a collision of the logical and illogical.

Potently combined with the breathtaking photography of David Scott Tapie, an artist of sensational intensity, Greater Than Sum has brought out the best work in both artists.