Outside the Inner Dialogue:
A Haiku a Day for a Year
by Donald Alan Straub III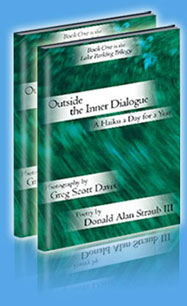 The momentous opening volume in the widely praised Lake Parking Trilogy, Outside the Inner Dialogue, is an uncommon and extraordinary haiku anthology. It gathers the very best prose from musician, filmmaker, and poet Donald Alan Straub III, a multi-faceted artist who ventured into the art of haiku writing as a medium for emotional healing.
This sterling volume brings together a genuinely distinctive collection of haikus written by Straub during the turn of the Millennium, a period intertwined with a tragic phase in the author's life. Distraught by a death in the family, Straub adopted the habit of writing "A Haiku a Day for a Year" as a constructive and productive means of coping with the tragedy. His foray into the world of haiku writing opened a whole new artistic realm for Straub, — a being of great emotional depth and an artist of vast range — who, in this deeply personal work, has assembled a spellbinding collection of haikus.
In this work, the author showcases the many unconventional and contrasting styles of his own brand of haikus— all the while sticking to the traditional structure of this art form. Exploring a wide range of topics, the author paints a powerful portrait of life through the eyes of Western Society, while combining the sensibilities of Eastern Culture. This gratifying work teaches a valuable lesson in life, encouraging its reader to take notice of their surroundings to the most minute and finite degree.
Beautifully laced by the riveting photography of Greg Scott Davis, an artist of unparalleled composition, Outside the Inner Dialogue is a mesmerizing ride with two of the genre's most prolific new talents.